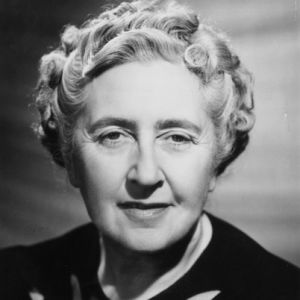 Agatha Christie is the best-selling book writer of all time and with William Shakespeare, the best-selling author of any kind. Only the Bible has sold more than her roughly four billion copies of novels. She is also the most translated individual author, her books have been printed in 103 languages. Surprisingly, through a chance meeting and then a close and enduring friendship, Agatha had a close association with this house (then known as The Shrubs) which is now the Beechwood Hotel.
Agatha Mary Clarissa Miller was born on 15 September 1890 in Torquay to an outgoing American father and a rather shy English mother. On Christmas Eve 1914, after a tempestuous romance, she married Archie Christie an aviator in the Royal Flying Corps.
During Archie's absence at the war, her sister Madge challenged her to write a novel. Completed in 1916. 'The Mysterious Affair at Styles' was first published in the United Sates in 1920. Agatha's success grew and her happiness was complete when her daughter Rosalind was born in 1919. But by 1926, her life was in tatters; her mother had died and Archie left her for another woman.
Slowly Agatha rebuilt her life. Her books became more and more popular and she became a famous author. In 1928, she made her first trip on the Orient Express to Constantinople. Fascinated by the stories she had heard about the archaeological excavations in Mesopotamia (largely modern day Iraq), she travelled on to Bagdad and Ur. There, in the small ex-pat community she met two young British doctors who had graduated from Manchester University, Peter and Margaret McLeod. They became great friends. Margaret and Agatha had a common bond, life was not straight forward for either of them. As one of the first women in the UK to qualify as a doctor, Margaret was working hard to earn respect in a profession that until now had been exclusively the preserve of men. Agatha was a self-employed author, a divorcee and a single mother, not the ideal social position in the England of the 1920s.
In 1936 the McLeods left Mesopotamia and bought the house that is now the Beechwood. Over the next thirty years, Agatha, now re-married to the archaeologist Max Mallowan, stayed many times. She would often come for a month at a time, usually travelling by train and always came on her own. During the day both the McLeods were working so Agatha would entertain herself and staff have recalled that she spent many hours writing in the summerhouse. In the evening, over dinner, Agatha would discuss possible plots with Peter and Margaret and they were always happy to supply medical information on how for example, poisons worked, to ensure her books were authentic. As a note of thanks she dedicated one of her novels, 'Sad Cypress' to Peter and Margaret.
At the time of this association, she was one of the most famous women in the world but during the time she was in North Walsham she was completely incognito and always used the name Mrs Mallowan.
In 1939 when war broke out, Peter and Margaret were concerned there may be an invasion on the east coast. In her autobiography Agatha records how Mrs McLeod drove from North Walsham with the two youngest McLeod children, David who was 5 and Agatha's god-daughter Cristall who was 3 and their nanny. David and Cristall then stayed in the relative safety of Greenway, her home on the River Dart, for the early part of the conflict.
Agatha died peacefully at home at Winterbrook House in Wallingford, Oxon on 12 January 1976.
As a twist of fate, Mrs Paine the daughter of Mrs Belson, Agatha's last housekeeper retired to North Walsham and has supplied a fascinating insight into her later years.
We have a full set of Agatha Christie novels and a postcard and personal letter written by Agatha Christie to Mrs McLeod which are available for guests to peruse. We also have a lovely collection of pictures from the Beechwood Hotel's past.